The FullView™ door is designed to provide you with the largest fire viewing area of any gasketed fireplace door. Each door assembly is custom made to exact specifications to insure proper fit while retaining the maximum view. Sealed glass sections minimize air flow through the door to the fire. Each door is standard in heat resistant black with a room air inlet and tempered safety glass with a polished edge. Optional features include; fire screens, either sliding or swinging, 1400 degree ceramic glass for closed door burning, electroplated gold, nickel or brass finishes along with Swedish steel, hammered or brushed steel finishes. To view these options, please download our full-color brochure which can be found on our Manual Download Page.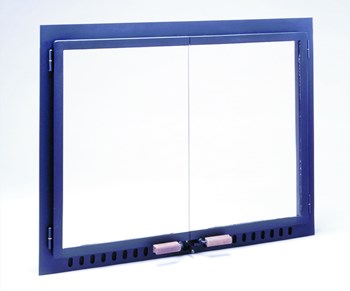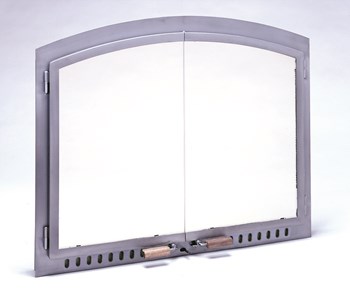 MEASUREMENT SHEET FOR CUSTOM WILKENING DOORS
Door can only be used with a masonry fireplace. Fractions or decimals may be used in form but do not enter the inches " icon as you will receive an error.
NOTICE! Your custom built fireplace door will be as accurate as the measurements provided on this sheet. Use a rigid tape or metal ruler for exact measurements. A mounting flange will protrude into your fireplace opening 2 to 3 inches and be sized to allow 1/4" space between it and your opening. Holes will be drilled though this flange into masonry for attachment. A high temperature silicon or refractory caulking can be used to fill any voids between the door frame and your fireplace.